East of Galleria - LOCATION
There are few residential projects in the world, let alone in the Philippines, which can boast to being so close to both a thriving business district and to a variety of shopping malls as East of Galleria can claim. Being located in three different cities, all of which are CDBs and still growing makes East of Galleria ideally located for commuting to work and yet the close proximity to the malls means even less time travelling for shopping needs. This does however of course mean that residents get to spend longer in their residences but Robinsons Land Corporation thought about this and provided the residents with plenty of amenities to keep them occupied.
Although the malls and the business districts are all close at hand, there are many other facilities close to East of Galleria, many less than 1 km distant. It would be impossible to list here all those facilities but examples of the more popular ones are:

Malls
The Podium BDO Tower - 0.32 km
Robinsons Galleria - 0.33 km
El Pueblo Real de Manila - 0.38 km
The Pleasure Place - 0.44 km
St. Francis Square - 0.44 km

Restaurants
Subspace Coffeehouse - 0.09 km
Manangs Chicken - 0.12 km
Chef N Brewer - 0.17 km
Lasapin Food Court - 0.17 km
Vignette Bistro - 0.17 km

Schools
Greenhills Christian Fellowship Preschool - 0.06 km
Saint Pedro Poveda College - 0.31 km
Romarinda International School - 0.79 km
University of Asia the Pacific - 0.89 km
Center for Childhood Education - 0.96 km

Hospitals
FriendlyCare Clinic - 1.18 km
Victor R. Potenciano Medical Center - 1.71 km
Fun Ranch Clinic - 1.89 km
Cardinal Santos Medical Center - 1.89 km

Churches
St. Joseph the Worker Chapel – 0.45km
Shrine of Mary – 051km
Stella Orientis Oratory – 0.93km

Parks
Meralco Theater – 0.41km
Robinsons – 0.42km
Meralco Museum – 0.58kn
Lopez Memorial Museum and Library 0.68km
Lopez Memorial Museum and Library 0.68km
Corinthian Gardens Clubhouse – 0.92km

In case of an emergency, even the Barangay Community Police Station is only 0.70km away.These, along with the many amenities in the East of Galleria Tower will ensure that residents never need to stray far from their residence, regardless of what their needs may be. There are times of course when any resident will need to go further afield, perhaps on a business trip or to visit family but with the EDSA, Ortigas Avenue, Meralco Avenue and Shaw Boulevard so close to the East of Galleria Tower, even those trips are far easier. If there is a requirement to go even further afield, the Ninoy Aquina International Airport, Manila's main airport, is only 12km away and even allowing for heavy traffic, can be reached by rode in just 43 minutes.
Being located in the Metro Manila Region can have many advantages but as with any large city, it can also have many disadvantages but thanks to the amenities and location of the East of Galleria Tower, residents only experience the benefits and are exempt from most of the disadvantages like rush hour traffic jams and crowded streets.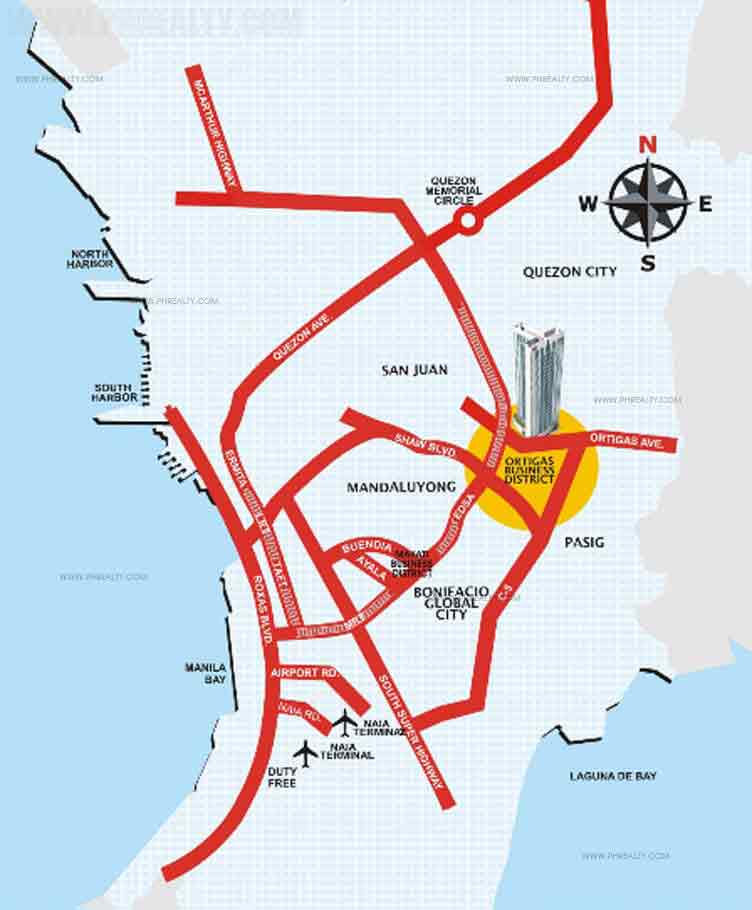 ROBINSONS LAND East of Galleria Ortigas Center
Challenging Makati as Manila's main CBD
Home for the Philippines Major Corporate Offices
(JG Summit, Jollibee, San Miguel Corp., ADB,PSE,Meralco)
The Country's Foremost Commercial Center Hub
Robinsons Galleria
Megamall
The Shangri-la Plaza
The Podium
St. Francis Square
Metrowalk
Tiendesitas @ Frontera Verde
ROBINSONS LAND East of Galleria Advantages of living in Ortigas CBD:
Situated along the Boundaries of Three Major Cities
(Pasig, Quezon City, Mandaluyong)
Accessible from Two Major Thoroughfares (EDSA and C-5)
Accessible Via MRT (Ortigas and Shaw Stations)
A few Minutes Drive from Makati CBD
Ample Parking
Efficient Transportation and Road Networks
Minutes away from Greenhills Shopping Center and Eastwood City